Oxygen Concentrator by Flow Rate
Oxygen concentrator our company provides can separate oxygen from air with the pressure swing adsorption (PSA) technology. Pressure swing adsorption is a physical oxygen generation method through which highly purified oxygen gas will be made. Our oxygen gas generator is easy to operate. It can continuously separate oxygen conforming to medical standard from air under normal temperature when being connected to the power supply and its oxygen flow is adjustable based on practical needs. In addition, our products are easy to clean and maintain thus are popular with customers.
Classification and Application
We offer various types of oxygen concentrators with different flow rates.
1. The 3L-10L/min type oxygen concentrationg machines (with ordinary outlet pressure of 0.04-0.07Mpa) are usually for medical use and home health care.
2. The 10L/min, 15L/min and 20L/min types (with high outlet pressure of 0.14-0.4Mpa) are mainly used for central oxygen supply of small hospitals and clinics. They are also available to connect to anesthesia machine or ventilator in ICU.
3. Some oxygen producing machines are also suitable for industrial use.
Composition of Oxygen Concentrator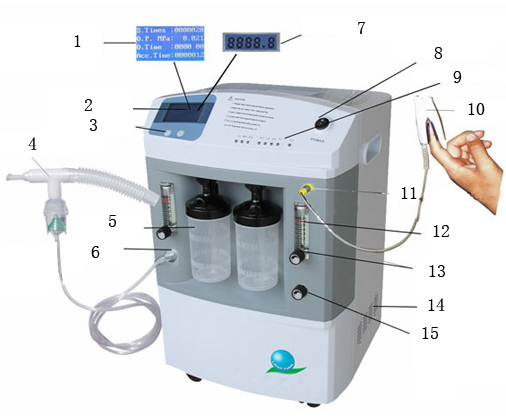 1. Large LCD display
2. LCD display
3. Timming keys
4. Nebulizer
5. Humidification bottle
6. Atomization outlet (optional)
7. Small LCD display (optional)
8. Power switch
9. Indicating lamp
10. SPO2 Sensor
11. Pulse oximeter connector (optional)
12. Oxygen flow meter
13. Knob of flow meter
14. Intake air filter
15. Knob for atomization
Features
1. All our oxygen concentrators are configured with oxygen concentration status indicator (OCSI) ensuring that oxygen therapy is safe.
2. Equipped with pressure monitoring device, our oxygen generating machine will keep long-time operation with no oxygen concentration attenuation. It is available in both plateau and plain areas.
3. Our product adopts molecular sieve separation system so that it has high oxygen generation efficiency.
4. The heat dissipation system of our oxygen generation equipment is composed of copper tube aluminum fin radiator and specially customized fans. The heat dissipation system will keep working 24hours all the year round.
5. System detection device as well as alarm devices for temperature, pressure, power failure are employed in our products. Thus our oxygen machine is safe to use.
6. All the oxygen concentrators we provide have accumulating timer for present working time indicating and preset time indicating.
7. The medical-use oil-free compressor in our oxygen gas generator adopts imported components and has service life 30% longer than other ordinary compressors.
8. The latest humidification bottle imported from the US has relief pressure as high as 6psi.
9. Our oxygen producing equipment adopts four-level filter system. The bacterial filter makes the oxygen clean and hygienic.