JAY-10
0-10L/Min Oxygen Concentrator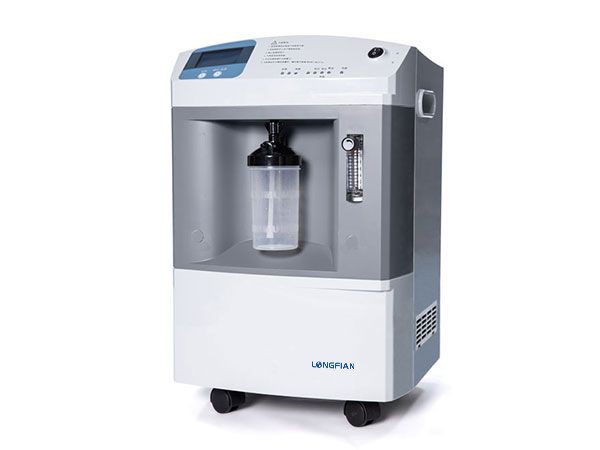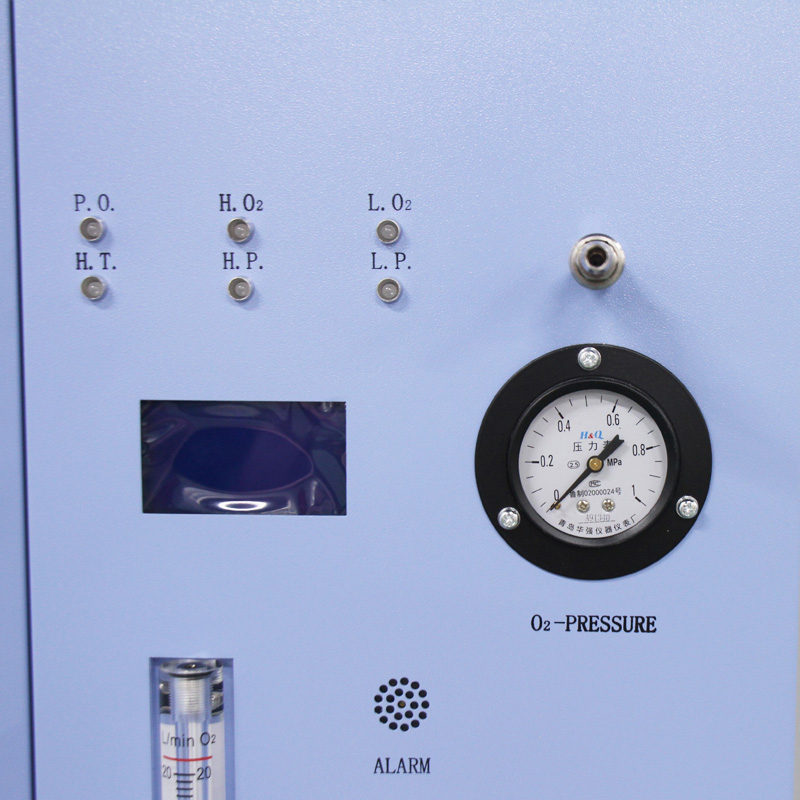 Features
1. The JAY-10 0-10L/min oxygen concentrator is a cost-effective product whose output oxygen concentration is higher than 90%.
2. Our oxygen gas generator is noiseless thus you will not disturb others even using it at night.
3. Compressor components of our oxygen concentrator have been strictly tested and are wear resistant. The reliable compressor guarantees high oxygen concentration.
4. Adopting imported compressor, humidification bottle and molecular sieve, our oxygen generation plant has high oxygen separating efficiency.
5. This oxygen concentrator can be classified into the ordinary pressure type (0.04-0.07Mpa) and the high pressure type (0.14-0.4Mpa). The ordinary pressure type oxygen concentrating machine can be directly connected to the oxygen hose for the user to inhale oxygen. The user will feel comfortable inhaling oxygen produced by the ordinary pressure type oxygen concentration machine since the outlet pressure is low.
The high pressure type oxygen concentrator is mainly used for central oxygen supply system of small hospital, ICU and operating theatre. Housing of the high pressure type oxygen concentration machine can be plastic, iron, aluminum or stainless steel as customers require.
6. Our 0-10L/min oxygen producing machine has a large LCD display indicating the starting times, operating pressure, present working time, accumulated working time and machine temperature. The timing length for one working cycle of this oxygen concentrator can be as long as 99 hours, while the accumulated timing length can be over 100000 hours since the machine has automatic memory function.
7. This oxygenator can be configured with double-flow humidification bottles so that it allows two users to inhale oxygen simultaneously with one machine.
Detailed Information
Oxygen Outlet Pressure (0.04-0.07Mpa)
Detailed Information for JAY-10 Ordinary Pressure (0.04-0.07Mpa) Oxygen Concentrator (Plastic Housing)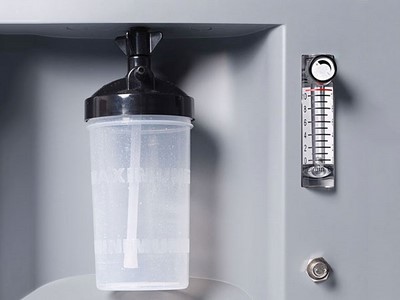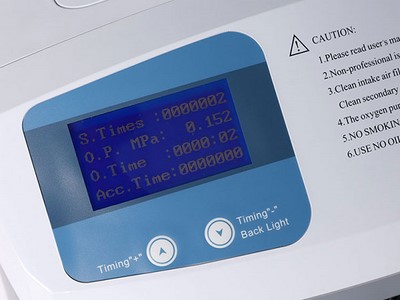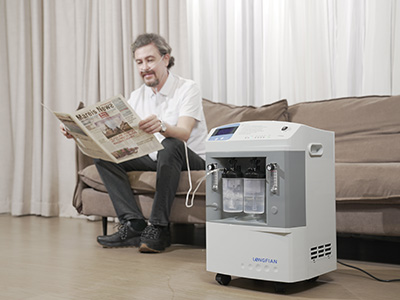 (1) Application
1. Medical use
2. Combining with separate flow meter to be used to supply oxygen for children or adults
3. Oxygen cylinder filling system
4. Industrial use such as welding, glass cutting, etc
5. Fish farming
6. Oxygen supply for ozone generator
7. Veterinary use
(2)Technical Parameters
| | |
| --- | --- |
| Model | JAY-10 |
| Flow rate | 0-10L/min |
| Oxygen concentration | 1-9L/min: 93%± 3%; 10L/min: 90% ± 2% |
| Outlet pressure | 0.04-0.07Mpa |
| Noise level | ≤50dB |
| Power | AC220V (±10%), 50/60±1Hz; AC110V (±10%), 50/60Hz (±1Hz) |
| Power consumption | ≤550W |
| LCD display | Starting times, operating pressure, present working time, accumulated working time, preset time from 10mins to 40hours |
| Alarm | Power failure alarm; high/low pressure alarm |
| Net weight | 28kg |
| Size | 365×375×600mm |
Optional
1. Nebulizer (Atomizer)
2. Low concentration alarm: when oxygen concentration is 82% or above, the blue light will be on; when the oxygen concentration is blow 82%, the red light will be on.
3. Maintenance alarm: alarm for maintenance after 3000 hours' operation.
4. High temperature alarm: alarm for high temperature when the internal system temperature is above 50°C
5. Pulse oximeter: fingertip pulse oximeter is available for monitoring patient' oxygen saturation on site.
6. Small LCD display: showing accumulated time, present working time and preset time.
7. Dual flow configuration.
Detailed Information for JAY-10 Ordinary Pressure (0.04-0.07Mpa) Oxygen Concentrator (Iron Housing)
(1) Application
1. Oxygen cylinder filling system
2. Industrial use such as welding, glass cutting, etc
3. Fish farming
4. Oxygen supply for ozone generator
5. Veterinary use
(2) Technical Parameters
Model
JAY-10
Rated power (VA)
550W
Operation voltage (V/Hz)
AC230V (± 10%)/50Hz (±1Hz)
Oxygen flow (L/min)
0-10
Oxygen concentration
93% (± 3%)
Outlet pressure (Mpa)
0.04-0.07
Alarm
Power failure; low/high pressure; temperature (optional); low concentration (optional); maintenance reminding after 3000 hours' operation (optional)
Noise level (dB)
≤ 55
LCD display
Accumulated time; present time
Large LCD display (optional)
Pressure indication (accuracy: 0.001MPa);
Accumulated working time (range: 0-10000hours);
Present working time (accuracy:1 minute);
Preset time (accuracy: 1 minute)
Optional: temperature indication (accuracy: 0.1);
Oxygen concentration indication
Maintenance reminding
Electrical safety classification
Class II Type B
Product category
Class II a
Net Weight (kg)
3060
Dimension (mm)
380×380×560
Low concentration alarm (Optional)
When oxygen concentration is 85% or above, the green lamp is on; when oxygen concentration isbelow 85%, the red lamp is on, indicating low concentration.
Fuse
F7A/250V
Oxygen Outlet Pressure (0.14-0.4Mpa)
JAY-10 Oxygen Concentrator with Outlet Pressure of 0.14-0.4Mpa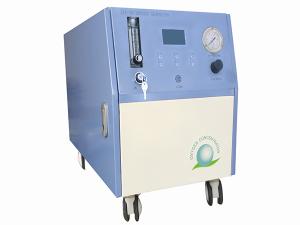 (1) Application
1.Connecting to ventilator or anesthesia machine in operating theater or ICU
2. Industrial use such as welding, glass cutting, etc
3. Fish farming
4. Veterinary use
(2) Technical Parameters
| | |
| --- | --- |
| Model | JAY-10 |
| Oxygen flow | 0 -10L/min |
| Outlet pressure | 0.14-0.4Mpa |
| Oxygen Concentration | 93%±3% |
| Noise level | ≤55dB |
| Power supply | AC220V (± 22V), 50Hz (±1Hz); AC230V, 50Hz;Optional: AC220V/110V (±10%), 50/60Hz (±Hz) |
| Power consumption | 600/850 |
| LCD display | Starting times, operating pressure, present working time, accumulated working time, preset time from 10mins to 40hours |
| Alarm | Power failure alarm; high/low pressure alarm |
| Dehumidifier | Automatic dehumidifier |
| Net weight | 45/65kg |
| Size | 365×375×600mm830×360×600mm |